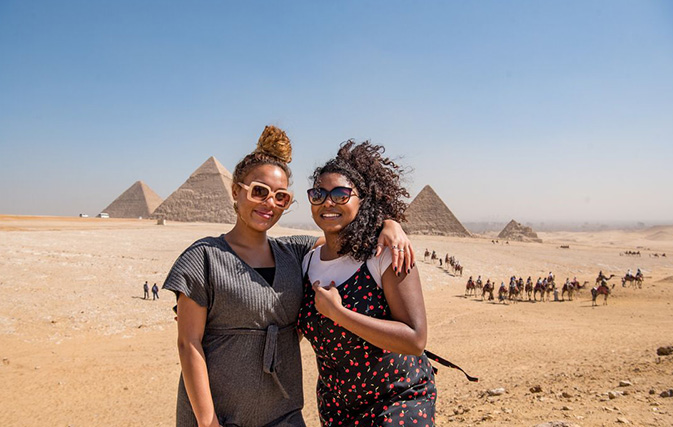 The Egyptian pyramids (Credit: Intrepid Travel)
How do you travel in 2021? Intrepid Travel has a list of tips
Wednesday, October 7, 2020

TORONTO — For anyone unsure of how to travel in 2021 during a global health crisis, Intrepid Travel has a few essential tips.
The company has released its first-ever 'How' To Go in 2021 list, a compilation that replaces its annual 'where to go' lists. Featuring five key trends, the list has helped inform Intrepid's new tours in 2021 as the company continues to reimagine adventure travel in a post-COVID world.
"In 2021, travellers around the world will continue to be faced with varying levels of restrictions and limited destinations they can visit," says James Thornton, CEO of Intrepid Travel. "This year we knew our focus would need to be less about the where and more about the how, looking at the ways in which we will travel better in the future. Whether it's closer to home or further abroad, travel has changed forever, and together we must create a new normal, focused on rebuilding travel better than it was before."
The five trends are as follows:
Go slower: Over the past six months, Intrepid has launched 15 new Retreats, with more planned for 2021. This new tour theme was developed in direct response to COVID-19 and allows guests to engage with surrounding communities, away from crowds and in a more controlled setting. Examples include the five-day 'Greece Retreat: Syros Island' and the five-day 'Croatia Retreat: Lastovo Island.'
To into the wild: In 2021/2022, Intrepid departs on its inaugural Antarctica Expedition on the Ocean Endeavour featuring activities like camping, kayaking and snowshoeing. Intrepid saw a 70% increase globally in searches to its Antarctica pages in September 2020, with early signs showing a strong demand for wilderness experiences. Beyond Antarctica, Intrepid is seeing steady bookings to the Galapagos Islands and on its Africa safaris for the second half of 2021.
Go on your terms: Customization and flexibility will be two key pillars for the future of travel. In 2021, all 800+ Intrepid trips will be fully customizable and available for travellers to book with their own private group. Intrepid has already seen a 120% increase in global search traffic for their custom offerings over the past six months. Across the industry, interest in solo travel has also accelerated as a result of the pandemic. So far in 2021, 31% of Intrepid's booked customers are solo travellers.
Go on a human-powered adventure: Intrepid has released four new cycling trips and four new walking trips in addition to over 90 active itineraries available in 2021. Cities like London have seen up to a 300% increase in cyclists. Intrepid has launched its new three-day 'England: Peak District Walking Retreat' and four-day 'Cycle New Zealand: Otago Rail Trail', among others.
Go to regenerate, not just sustain: As the world's largest travel B Corp and a carbon-neutral company, Intrepid has focused its efforts on advocating for a responsible rebuild of the travel industry. It recently open-sourced a guide to decarbonize travel business as well as its animal welfare policy as tools for other travel companies and consumers to travel more responsibly. Beyond sustainability, COVID-19 has also been a catalyst for the regenerative travel movement, which aims to minimize impact while working to benefit the communities we visit.
To explore the full How To Go In 2021 list, visit https://www.intrepidtravel.com/how-to-go-2021.