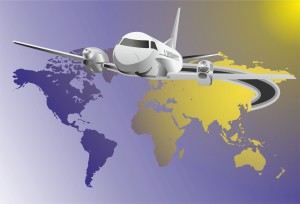 Although the travel and tourism industry has taken a bit of a hit because of the Coronavirus pandemic, expect it to bounce back as soon as the lockdown restrictions are relaxed or lifted completely. Many people have had to postpone all their 2020 travel plans because of Covid-19, so the year 2021 may witness a never-seen-before spike in local as well as international travel as ardent travelers quench their wanderlust. And travel brands need to lay the groundwork for travel marketing from today itself to ride the inevitable wave of bookings that will come tomorrow.
The travel and tourism industry is one of the biggest and most cutthroat industries in the world. It ranks fourth in terms of global social media following. A Business Insider report claims that millennials plan to spend upwards of $5000 on their vacations. Our social feeds are filled with beach selfies, airplane wings cutting through the clouds, and those perfect golden-brown waffles in exotic locales. People capture every aspect of their journey – planning, packing, sourcing recommendations, flight experiences, hotel stories, sightseeing et al. And the common denominator in all these is that it's captured and posted on social media for likes. No wonder you see all those throwback pictures of long, windy roads; gorgeous sunsets, and breathtaking mountaintop views on Instagram.
And since social media can literally make or break a travel brand today, it is vital that you build a strong social media strategy for travel marketing today. Here are some tips and tricks:
KNOW THY AUDIENCE
Before you launch social media campaigns, you should have a clear understanding of your target customer. Traditional customer segments may not be as effective anymore. The modern traveler seeks variety in her travel experiences. Today, she might be in the mood for a backpacking trip through the Alps, while tomorrow she might want a romantic getaway in Venice. Travel brands need to be aware of this modern user persona – the multi-traveller. They need to use the data they have accumulated on leads and customers alike to show them exactly what they want at exactly the right time.
LEVERAGE SOCIAL COMMERCE
Social media is no longer just a place for mindless scrolling and content consumption. It has also become the hub for product and brand discovery. Pinterest, Instagram, and Facebook have used this paradigm shift in consumer behavior to sell directly through their platforms. Instagram reveals that around 130 million people tap on Shoppable posts to explore new products every month. They have rolled out shopping-friendly features like product tags, stickers, 'Book', and 'Reserve' buttons to enhance the shopping experience and make it a breeze. You must also have seen influencers advertise products through Instagram Stories asking you to 'Swipe Up' to know more. This allows travel brands to directly embed a 'Purchase' button in their posts to get consumers to book a vacation in-app.
ONLINE REPUTATION MANAGEMENT
In the travel space, nothing succeeds like social proof. The best way to get new customers is through word-of-mouth. Imagine reading about your friend's amazing experience at a particular Airbnb, where he celebrated his one-year anniversary. Wouldn't you be tempted to take your partner to the same place on your special occasion? Making travel plans is a major investment of time, effort, and money, so travelers look for reassurance and validation by reading online feedback. A 2019 TripAdvisor study claims that 81% of people depend on online reviews to book a hotel. This is why staying on top of reviews, and responding to them in a timely manner is crucial in building a positive social media presence.
CONTENT IS KING
An Expedia study states that 67% of people choose a holiday destination based on how 'Instagrammable' it is. This means it is vital to showcase stunning photos of your hotel interiors or the picturesque outdoors to inspire people to visit. Your Instagram feed needs to look like a beautiful, cohesive photo album. To do this, you can split photos into multiple tiles to create an underlying mosaic effect that is both eye-catching and scroll-worthy. And don't just rely on textual or photographic content. Today, video ads are one of the hottest trends in the digital medium because of their immersive nature. You can create engaging walkthroughs and other videos that let travelers live the vacation experience virtually. Make use of an online free video editing software to create high-quality videos without breaking the bank and without breaking much sweat.
PROVIDE EXCEPTIONAL CUSTOMER SUPPORT 
Gone are the days of ringing up a traveler hotline seeking assistance. Gen Z and millennials are increasingly turning to platforms like Twitter to indicate their displeasure, voice grievances, and ask queries. And because of the real-time nature of Twitter, brands have to be extremely nimble with their responses. Take Skyscanner, for instance; their customers often share concerns through Instagram comments. The company cannot let these linger for long and has to be lightning-fast with their replies to ensure existing customers don't stay disgruntled and impress new prospects as a reliable service. 73% of people say that a 'friendly service' is an important factor influencing brand loyalty so keep reading those DMs, replying to comments, and monitoring brand mentions on social media.
STEP UP YOUR UGC GAME
As a travel brand, being a part of the online conversation is a must. User-generated content is a great way to stay relevant and participate in online chatter. For this, you can enlist the help of travel bloggers to create beautiful travelogues that bring your destination to life. You can also invite them up for an all-expense-paid stay-cation and ask them to vlog about their experiences live. Vacation vlogs are gaining wide popularity on YouTube, so this can create a lot of brand impressions. People see their favorite influencers go on hiking expeditions or lazy retreats and immediately want to follow in their footsteps. Literally.
This is just the tip of the iceberg. There is so much more you can do with social media to boost awareness and increase bookings, but for now, these handy tips should serve you well in getting started.
Media Contact
Company Name: Contconcord
Contact Person: Shiraz Kahn
Email: Send Email
Phone: +923367199988
Country: United States
Website: https://contconcord.com
Press Release Distributed by ABNewswire.com
To view the original version on ABNewswire visit: How to Build a Social Media Strategy For Travel Marketing in 2020?