Since Southbound debuted in 2013, our staff and contributors have logged thousands of miles, consumed millions of calories, and taken countless notes and photos to showcase the very best destinations around the region. Although every place we've covered is special, some left a particularly powerful impression. Here, we give you the best of the very best, our favorite spots in the South.
Stays
Old Edwards Inn
Highlands, North Carolina
Luxury feels laid-back at this historic inn turned high-end resort, which occupies several blocks in the town whose renaissance it helped spur. Sip a glass of Champagne at the Lodge, savor a leisurely gourmet meal at Madison's, and relax at the spa or on your private porch overlooking evergreens.
Hotel Trundle
Columbia, South Carolina
Occupying a trio of downtown buildings, this boutique hotel blends historic details—exposed brick, pressed-tin ceiling tiles—with a playful design scheme that's anything but dated (think Great Gatsby meets Jonathan Adler). Local makers find expression everywhere, from the hand-crafted beds to local wine and beer on tap at the front desk.
Glen-Ella Springs Inn
Clarkesville, Georgia
With sixteen mountain-chic guest rooms, this 1875 inn nails the historic-charm-meets-modern-comfort combo. In its cozy restaurant, couples celebrate milestones over pecan-crusted trout and rack of lamb. After dinner, snuggle by the firepit on the forest's edge.
The Willcox Hotel
Aiken, South Carolina
Past guests at this horse-country landmark include Franklin D. Roosevelt and Winston Churchill. Its pine-paneled lobby conjures an English gentleman's study, but it's rightfully called Aiken's living room—a place for locals and guests alike to unwind (or gossip) over cocktails. 
The Moorings Village
Islamorada, Florida
But for the fact that you're encouraged to eat fruit from the trees, this secluded getaway is every bit Eden. An orchid-studded former coconut plantation is home to eighteen cottages, tennis courts, a lap pool, and a white-sand beach that's hosted photo shoots for the likes of Vogue and Elle. Don't miss enjoying a waterside meal at sister restaurant Pierre's just up the road.
Kimpton Cardinal Hotel
Winston-Salem, North Carolina
In 1929, the R.J. Reynolds Tobacco Company built what was the tallest skyscraper in the South, an art deco stunner that would inspire the Empire State Building. In 2016, the landmark was given new life as a hotel. Its sleek guest rooms, brasserie, and rec room (complete with adult-sized spiral slide) are new, but the gleaming elevator lobby's marble floors and walls, brass and nickel elevator doors, and a ceiling studded with gilded tobacco leaves are original. 
Magnolia Springs Bed and Breakfast
Magnolia Springs, Alabama
This postage stamp of a town feels strangely familiar, in part because the authors of Forrest Gump and Fried Green Tomatoes both lived and drew inspiration here. Its namesake bed and breakfast is straight out of such a novel, from the wraparound porch and heart pine floors to the majestic live oaks.
EXPERT PICK
"My favorite haunted hotel room is Anna's room at 17Hundred90 Inn & Restaurant in Savannah—room number 204. It's popular, so I do advise you book sooner rather than later. But fair warning: Not all guests can stay all night. She likes to flush the toilet and make the phone ring."
—James Caskey, founder of Savannah's Cobblestone Tours and author of Haunted Savannah: America's Most Spectral City
Greyfield Inn
Cumberland Island, Georgia
Built in 1901 for the daughter of steel tycoon Thomas Carnegie, this Colonial Revival mansion is one of the only dwellings on a remote isle where wild horses roam. Filled with family heirlooms, the inn offers glimpses of American aristocracy—John F. Kennedy Jr. and Carolyn Bessette spent their wedding night here—amid a landscape that's anything but civilized.
The Fearrington House Inn
Pittsboro, North Carolina
Visiting this former eighteenth-century dairy farm is like stepping into a Monet painting. Natural beauty abounds, from the sprawling gardens to the adorable heritage-breed farm animals. Boasting a prestigious Relais & Châteaux certification, the property began as a restaurant (food is still a highlight), then began adding stately, mismatched guest rooms with an organic feel. 
Urban Cowboy
Nashville
The stately Victorian exterior of this East Nashville B&B is a cool contrast to its Southwestern-chic interior, featuring a music room (grab an instrument) and eight Instagram-ready suites (strike a pose next to the clawfoot tub situated in each room). Out back, the Public House bar offers craft cocktails, small bites, and a cozy patio.
The Everett Hotel
Bryson City, North Carolina
This beautifully restored former bank has slowly expanded over the last decade—from coffee shop to full-service restaurant to plush, ten-suite boutique hotel. Locals pack the cozy, wood-paneled dining room and bar, but only hotel guests may enjoy the mountain views and crackling firepit on the rooftop terrace.
READER PICK
"We love the Grand Hotel in Point Clear, Alabama. The hotel and grounds are beautiful. There's a world-class spa, Robert Trent Jones golf course, great restaurants, and live music every night."
—Brenda Bills Duncan
Anchorage 1770
Beaufort, South Carolina
This 1770 inn (hence the name) has served as a politician's home, Civil War hospital, and raucous nineteenth-century social club. Subdued decor in cream and white provides a clean canvas for imagining its colorful past, while three floors of porches—including a rooftop deck with one of the best views in Beaufort—showcase the marshy river.
The Ritz-Carlton Reynolds, Lake Oconee
Greensboro, Georgia
Families find bliss at this retreat on the banks of Lake Oconee. In addition to world-class golf courses, a sanctuary-like spa, and classic Ritz luxury (country star Carrie Underwood got married here), you'll find tree swings, nightly s'more roasts, wide lawns for playing tag, and pontoons for rent. 
The Swag
Waynesville, North Carolina
The views are sweeping at this luxurious mountaintop inn, but the Swag is all about the little things: a complimentary walking stick, hot towels before dinner, gourmet picnic lunches. Relax on the 250-acre grounds—an actual stone's throw from Great Smoky Mountains National Park—or join in on naturalist-led hikes.
Island Hotel
Cedar Key, Florida
Sloping wood floors and slowly turning ceiling fans welcome guests to this storied hotel, built in 1859. Early patrons flocked here for seafood dinners and simply furnished lodging, among them author Pearl S. Buck and entertainer Tennessee Ernie Ford. The wood-paneled Neptune Bar hosted many an impromptu Jimmy Buffett concert in the 1980s. Today, guests come for the iconic heart of palm salad, the rocking chairs lining the wraparound veranda, and a healthy dose of Old Florida charm.
Stony Knoll Vineyards Wine Lodge
Dobson, North Carolina
Family-owned for generations, this tobacco farm turned vineyard welcomes overnight guests to a restored 1850s cabin with exposed-beam ceilings, homey braided rugs, and the original stone fireplace. The front porch provides a knockout view of the vines and the ideal perch for tasting the winery's offerings.
Shack Up Inn
Clarksdale, Mississippi
Dogs are welcome, kids are not, at the Shack Up, where you can crash in old shotgun shacks—or in grain bins converted to cottages—amid old farming equipment. Expect corrugated tin roofs, weathered wood walls, and foot-tapping fun: The old cotton gin is now a bar hosting local blues acts. 
The Sanctuary at Kiawah Island Golf Resort
Kiawah Island, South Carolina
To get into this resort, you'll need reservations months in advance, but your reward is oceanside opulence: crystal chandeliers and floor-to-ceiling French windows, spacious guest rooms with Atlantic views, a highly rated spa and indulgent steakhouse, and at low tide, a beach stretching 100 yards from dunes to sea.
Food & Drink
Brent's Drugs
Jackson, Mississippi
Jackson's buzzy Fondren district is perhaps buzziest for Brent's Drugs, a 1946 soda fountain featured in the 2011 film The Help. Come sundown, patrons slip into the back of the building and find themselves in a dapper cocktail bar, Brent's Apothecary.
Dooky Chase's Restaurant
New Orleans
Since 1939, this Creole restaurant in the city's historic Tremé neighborhood has served its famous gumbo to everyone from Martin Luther King Jr. to Barack Obama. Helmed by proprietor Leah Chase (whose life inspired the character Tiana in Disney's The Princess and the Frog) until her death last year at age ninety-six, it is now run by her daughter, Stella Chase Reese.
Peter Kern Library
Knoxville, Tennessee
An image of Peter Kern—a German immigrant with a walrus mustache—hovers over this speakeasy inside the Oliver Hotel, accessible through an unmarked sliding door off the lobby. The cocktail menus, sewn into hardcover books, feature drinks named after literary icons, like the fiery Holden Caulfield and the crisp Atticus Finch.
Kimball House
Decatur, Georgia
A 2020 James Beard semifinalist for Outstanding Bar Program, this is the place for hip cocktails served in even hipper vintage glassware. Located in a former train depot, this Atlanta-area joint has more going for it than drinks: Its oyster menu is widely considered the best in the city (and, some say, the Southeast).
Doe's Eat Place
Greenville, Mississippi
Things haven't changed much since Dominick "Doe" Signa opened this unassuming steakhouse in 1941. Guests still enter through the kitchen, walking past enormous slabs of seasoned beef until they reach the rear dining room. There's still no menu; your server tells you what they're cooking. Although the restaurant has franchised, the Signa family owns and operates the original location.
CELEBRITY PICK
"I visited India after wrapping up the first season of Scandal, and I can honestly say Mela in Asheville has the most authentic, delicious Indian food. They even bake their bread in a genuine tandoor oven."
—Bellamy Young, actress
La Segunda Central Bakery
Tampa, Florida
Stop in at this century-old bakery in Tampa's historic Ybor City neighborhood for a flaky guava-and-cheese turnover and a cup of cafe con leche made with locally roasted and ground Naviera coffee. Be sure to pick up a loaf of Cuban bread featuring the signature palmetto leaf. 
Snackbar
Oxford, Mississippi
Not located on the Square, but squarely located on the radar of foodies across the country, this bistro from prolific Oxford restaurateur John Currence showcases the talents of Vishwesh Bhatt, who took home the 2019 James Beard Award for Best Chef in the South. Order his signature okra chaat, which combines Southern fried okra with Indian chaat masala.
Flora-Bama
Perdido Key, Florida
Since 1964, this dive bar on the Florida-Alabama line has been a place to catch live music, drink domestic beers, and bury your toes in the silky white sand. So legendary is this roadhouse, it inspired Jimmy Buffett's hit song "Bama Breeze."
Highlands Bar & Grill
Birmingham
This Parisian-style restaurant from chef-owner Frank Stitt is known for many things: winning the 2018 James Beard Award for America's Most Outstanding Restaurant, spawning the careers of many well-known chefs (see: Chris Hastings), and blazing new trails for Southern cuisine. It's also known for its coconut cake, which earned pastry chef Dolester Miles a James Beard Award in 2018.
Bida Manda
Raleigh
One of only a handful of Laotian restaurants in the South, this sophisticated spot was opened by siblings who moved from Laos to North Carolina as children. Try the crispy rice lettuce wrap and the green papaya salad, and whatever you do, don't miss the pork belly soup with coconut curry broth and peanuts. It's bliss in a bowl.
Yellow Bowl
Jeanerette, Louisiana
Open since 1927, this Cajun joint housed in a little butter-yellow building is rightfully famous for its crawfish platter: a bowl of etouffee, a crawfish ball, and a serving of crawfish au gratin—the Cajun cousin of lobster mac and cheese.
Dollywood's Grist Mill
Pigeon Forge, Tennessee
When it was constructed in 1982, this was the first operating grist mill built in Tennessee in more than a century. However, its chief claim to fame is the cinnamon bread baked here, served fresh from the oven with homemade apple butter or icing. Visitors to Dolly Parton's Smoky Mountain theme park devour more than 126,000 of the piping-hot pull-apart loaves a year.
Mollie Fontaine Lounge
Memphis
In the aptly named Victorian Village neighborhood, this grand former abode is now a funky restaurant and bar. Evenings usually start out low-key—with guests sinking into vintage lounge furniture while a pianist takes requests—before turning into DJ-fueled dance parties.
Buford Highway
Atlanta
Thousands of immigrant-owned businesses line this busy artery that stretches from Atlanta to Buford—from James Beard nominees (Sushi Hayakawa, Masterpiece) to under-the-radar gems (Yet Tuh, Lee's Bakery). Don't miss the Cuban sandwiches and empanadas at Havana Sandwich Shop; open since 1976, it's considered the first immigrant-owned business on BuHi.
READER PICK
"Bud & Alley's in Seaside, Florida, has the best mahi sandwich on the planet, and the view of the Gulf from the cocktail bar makes you never want to leave."
—Amy Jenkins Godfrey
Jackson's Steakhouse
Pensacola, Florida
Named for Andrew Jackson and situated in the bones of a nineteenth-century mercantile, this is the grande dame of Pensacola's fine-dining scene. Sit at the lively bar and order bacon-wrapped oysters, prime steaks, and locally caught snapper. The wine list is award-winning, and the cocktails are some of the best—and strongest—in town. 
Hole in the Wall
Apalachicola, Florida
At this sliver of a restaurant, you'll find three people working: the owner, the shucker, and the waitress keeping the other two in line. Order a dozen raw local oysters and a bottle of 30A Beach Blonde and enjoy the fun as the staffers rib each other like siblings. 850-653-3222
Lula Drake Wine Parlour
Columbia, South Carolina
This wine bar features a comprehensive but tightly curated menu promoting small-batch, sustainable vintners. How about a white Nero d'Avola or a Macedonian grape you've never heard of? There's also sherry on tap and an extensive beer selection at this warmly lit, brick-walled spot set in a historic downtown building.
Brigtsen's
New Orleans
Chef Frank Brigtsen, who trained under legendary New Orleans chef Paul Prudhomme, has been a torchbearer for the city's traditional Creole recipes for the last thirty-four years. At his intimate bungalow restaurant in Uptown, order a bowl of his famous gumbo made with rabbit, andouille, and okra.
Salt
Amelia Island, Florida
This AAA Five Diamond restaurant at the Ritz-Carlton, Amelia Island is helmed by chef Richard Laughlin, who has kept the restaurant at the top of its game since opening day twelve years ago. He incorporates more than forty varieties of salt on the coastal menu, including a sizzling 250-million-year-old Himalayan salt block upon which strips of beef tenderloin are cooked before diners' eyes.
Straight to Ale
Huntsville, Alabama
This brewery occupies the former gymnasium of a long-shuttered public middle school. But that's not the only surprise. Push aside a row of lockers to discover a crowded speakeasy, where the specialty is 140-proof absinthe distilled on-site. Sipping it, you have to wonder if any daydreaming seventh grader (or assistant principal) could fathom such a scenario in a former classroom.
CELEBRITY PICK
"At FIG, there's this gnocchi Bolognese, which is the single greatest Italian dish I've had. It is absolutely amazing. I tell everyone who comes to Charleston and can't get a reservation to go sit at the bar just to order it."
—Darius Rucker, singer-songwriter
Shops
Sweetgrass Cultural Arts Pavilion
Mount Pleasant, South Carolina
The art of coiled basketry traces its origins to West Africa and first appeared in South Carolina in the late eighteenth century. Today, basketmakers at this open-air market and museum offer a range of household items, from wine-bottle covers to tissue boxes, as well as traditional baskets.
Hatch Show Print
Nashville
After you've toured the Country Music Hall of Fame and Museum, don't miss this famous letterpress operation located on-site. A working print shop since 1879, it is renowned for its iconic concert posters and handbills.
Cat Head
Clarksdale, Mississippi
This downtown gathering spot is equal parts record store, bookshop, folk art gallery, and visitor information center. Stock up on blues albums (owner Roger Stolle is known as Clarksdale's blues ambassador), books about the Delta, and reasonably priced pieces by self-taught artists.
READER PICK
"Deep South Mercantile in Arab, Alabama, has all the small-town charm and big-town service you could ask for. Great selection of regional makers, unique items, and unbelievable customer service."
—Kelly Sargent Douglas
Lower King Street Antiques District
Charleston
Find everything from crystal chandeliers to taxidermy peacocks to eclectic case goods among the curated collections of Charleston's antiques mecca. Standout shops include David Skinner Antiques, Tucker Payne Antiques, and John Pope Antiques. 
Landmark Booksellers
Franklin, Tennessee
This self-proclaimed "Sanctuary of Southern Lit" stocks more than 35,000 titles, including some 2,000 signed first editions. Books sell from a few dollars to thousands (a signed hardcover of To Kill a Mockingbird can be yours for $2,950), but the guidance from owners Carol and Joel Tomlin is priceless. 
The Paris Market and Brocante
Savannah
This giant French flea market is a gift-giver's dream. On the main level, shoppers find luxe greeting cards, candles, chic baby items, even a vintage candy counter. The lower level features elaborate table settings with vintage china and antique furniture and lighting.
Tupelo Hardware Company
Tupelo, Mississippi
Family-owned since it opened in 1926, Tupelo Hardware Company has a fascinating claim to fame: One of the original employees sold Elvis Presley his first guitar here in 1946. Visitors today can shop for their own acoustic guitar (including those built for new learners or lefties), in addition to hardware supplies. 
The Original Hammock Shop
Pawleys Island, South Carolina
In 1889, local riverboat captain Joshua John Ward created a cotton-rope hammock featuring a double-latch weave and spreader bar. His design grew in popularity, and in 1938, his family opened the Original Hammock Shop. Be sure to drop by the weavers cottage to watch demonstrations by longtime hammock-maker Marvin Grant. 
McCarty Pottery
Merigold, Mississippi
In 1954, Lee and Pup McCarty made their first pieces of pottery in an old mule barn with clay from their pal William Faulkner's land. Today, art lovers and avid collectors make pilgrimages to the barn for McCarty platters, candlesticks, and casserole dishes, which bear the family's trademark wavy line representing the Mississippi River.
CELEBRITY PICK
"My favorite hangout in Oxford is Square Books. It's got that bubble-in-time vibe that the best indie bookstores have, the most relaxed and welcoming feeling."
—Greg Iles, author
Qualla Arts & Crafts
Cherokee, North Carolina
Founded in 1946, this is the oldest Native American cooperative in the country. Browse an extraordinary selection of handmade baskets, pottery, and beadwork showcasing the traditional arts and crafts of the Eastern Cherokee.
Sweet Grass Dairy Cheese Shop
Thomasville, Georgia
For twenty years, this dairy has produced award-winning cheeses, such as the Camembert-like Green Hill and the creamy-crumbly Asher Blue. At its downtown shop, sample a loaded cheese or charcuterie board while enjoying a cocktail or glass of wine.
Billy Reid
Florence, Alabama
International designer and Florence resident Billy Reid creates classic American luxury clothes with a Southern twist on the second floor of his downtown studio. Sip bourbon as you browse current collections at his flagship store.
Attractions
Whitewater Express
Columbus, Georgia
Intrepid adventurers test their mettle rafting and kayaking—even zip-lining over—a two-and-a-half-mile stretch of the Chattahoochee River. Cutting through downtown Columbus, the rapids constitute the longest urban course in the world. Rafters appreciate the range of grades—from Class I to Class IV—and they also dig the tailgating atmosphere.
Old Salem
Winston-Salem, North Carolina
In 1766, Moravians, members of a Protestant denomination from Central Europe, founded Salem. Today, 109 buildings from their historical settlement have been restored or reconstructed, and dozens of craftspeople and reenactors bring the village to life. Watch shoemakers, tailors, potters, and gunsmiths ply their trades as they would have two centuries ago, and stroll the numerous gardens showcasing heirloom plants.
Tabasco Factory
Avery Island, Louisiana
Since 1868, the McIlhenny family has produced and bottled its famous Tabasco pepper sauce on Avery Island. Follow the process from the pepper plants all the way to the bottling line on the factory tour, then sidle up to the tasting bar at the country store to sample Tabasco soda pop or ice cream drizzled with raspberry-chipotle pepper sauce. Don't miss the island's 170-acre garden and wildlife sanctuary, Jungle Gardens.
CELEBRITY PICK
"Entertainment is all around you in New Orleans' French Quarter; you're walking through it. That's how I felt in the West Village in New York and in Venice Beach. But of course, none of that is as old as the Quarter."
—Lynn Whitfield, actress
Discovery Cove
Orlando
Snorkeling in a tropical lagoon, hand-feeding exotic birds, becoming friends with a dolphin—it's just another day in paradise at this Central Florida park and resort. Unlimited food and beverages, wet suits and snorkeling gear, hammocks, and even private cabanas make this oasis as easy as it is outstanding.
Brookgreen Gardens
Murrells Inlet, South Carolina
Industrialist Archer Huntington and his wife, sculptor Anna Hyatt Huntington, purchased four former rice plantations in 1930, transforming them into America's first public sculpture garden. Today, the 9,000-acre garden showcases the world's largest outdoor collection of American sculpture (more than 2,000 works by 430 artists), as well as thousands of flowers and centuries-old oak trees. 
Monetta Drive-In Theatre
Monetta, South Carolina
Known as the Big Mo, this charmingly retro drive-in plays double features on three screens from March to November. It's also beloved for special events such as pajama nights, cookouts, and an annual screening of the year's Oscar winner for best picture. Rent a radio and stock up on concessions—a giant fiberglass peach marks the stand. 
EXPERT PICK
"The attraction I get the most joy out of is Expedition Everest in the Animal Kingdom. The ride itself is just singular—I can't think of another roller coaster like it. Every time I do it, I laugh out loud because it's so great."
—Bob Sehlinger, author of five books on Walt Disney World in his Unofficial Guide series
The Battle of Atlanta Cyclorama
Atlanta
This mammoth 360-degree painting, created in 1886 and measuring 371 feet long and forty-nine feet high, places viewers in the heart of the Battle of Atlanta at 4:45 on the afternoon of July 22, 1864. Recently relocated to a new building and restored at a total cost of $25 million, the cyclorama is now on permanent display at the Atlanta History Center, one of only seventeen surviving full-scale cycloramas in the world.
Clearwater Marine Aquarium
Clearwater, Florida
Winter the Dolphin's injury, recovery, and prosthetic tail inspired the Dolphin Tale movies. See her in person, along with other full-time residents—Thelma the nurse shark, Spot the moray eel, and Ricky the pelican—at this marine-life rescue center.
Cupola House
Edenton, North Carolina
Incorporated in 1722, Edenton, the first capital of the North Carolina colony, feels more New England than Old South. Case in point: this architecturally unique mansion built in 1758 and known for its decorative woodwork. Don't miss the property's expansive Colonial Revival Gardens, filled with fruit trees, herbs, and other plants grown here in the eighteenth century.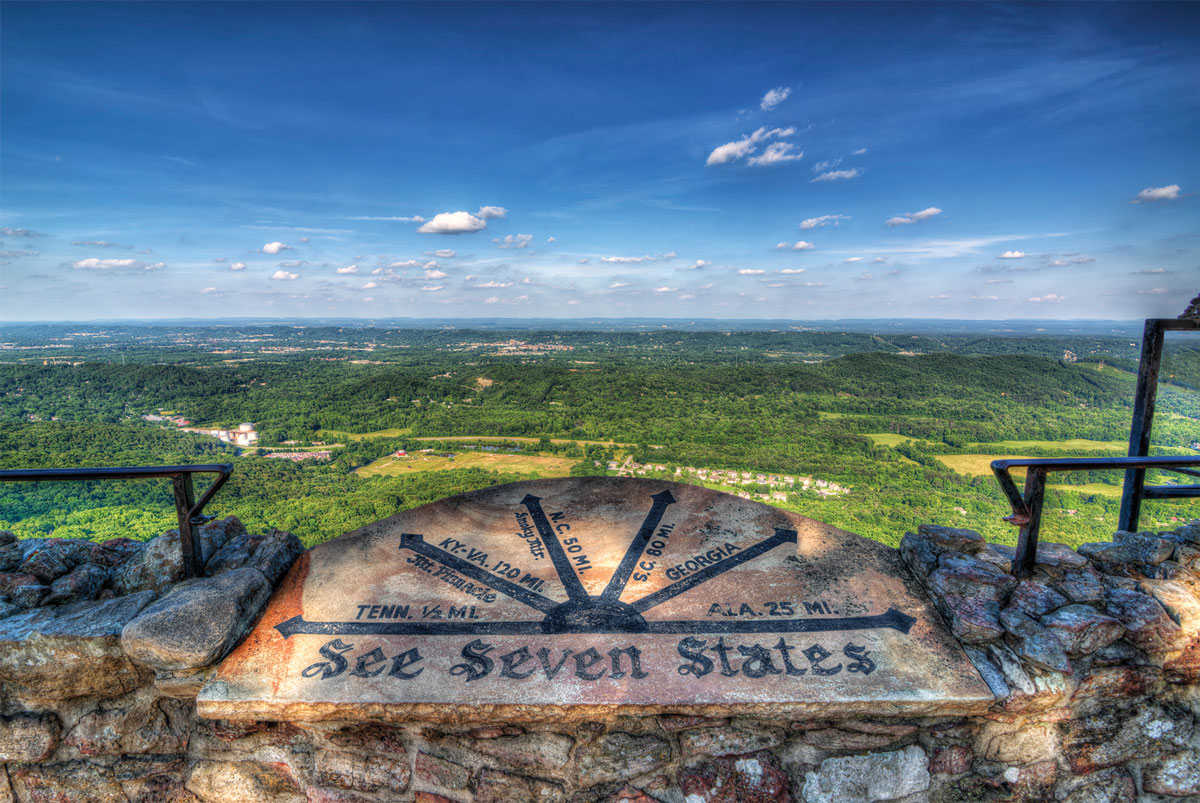 Rock City
Chattanooga, Tennessee
What began in 1932 as the rock garden to end all rock gardens is today one of the most intact vintage attractions in the South. Its original trail, which winds through giant rock formations atop Lookout Mountain and ends at an outcropping known as Lover's Leap (from which seven states can be seen), continues to delight guests who heed the call to see Rock City.
Tours
Rural Studio Tour
Newbern, Alabama
An Auburn University architecture program brings students to western Alabama's Black Belt to study the region's historic architecture and construct new low-cost homes and innovative community buildings with repurposed materials. Pick up a project map at the school's Newbern office and check out some of the students' 200-plus structures. Among the standouts is the Akron Boys & Girls Club 2; known for its striking barrel vault–covered basketball court, it was named one of the world's most beautiful buildings by Travel + Leisure.
Landmark Tour
Jekyll Island, Georgia
Purchased in 1886 as an enclave for America's elite, Jekyll Island once served as the winter playground of Rockfellers, Vanderbilts, Pulitzers, Morgans, and Astors—a Who's Who of the Gilded Age. Hop aboard this docent-guided, open-air trolley tour of the island's 240-acre historic district, which includes entry into select family manses, referred to as "cottages."
Walk Monroeville
Monroeville, Alabama
Stop in at the redbrick courthouse made famous by To Kill a Mockingbird and pick up a walking-tour map of 1930s Monroeville. Stroll the surrounding streets, searching out buildings of significance to young Harper Lee and her childhood playmate Truman Capote. For example, check out the former Monroe County Bank, where Lee's father kept a law office, and the storefront that once housed Thompson's Bakery, among Capote's favorite stops.
Winter Park Scenic Boat Tour
Winter Park, Florida
Climb aboard a pontoon and explore three of Central Florida's most beautiful lakes, each connected to the other by canals built in the 1880s to transport pine. As you float along, your guide will point out ginger plants and banana trees, a 350-year-old live oak, and wild bougainvillea. You'll also see several mansions designed by noted architect James Gamble Rogers.
Museums
The Dalí Museum
St. Petersburg, Florida
Take a mind-bending journey through the world of Salvador Dalí. The museum's undulating geodesic building was designed by Yann Weymouth, who helped create the Louvre's famous glass pyramid, and its collection of oil paintings, drawings, sculpture, and other works by the Spanish surrealist is the largest outside Europe.
National Civil Rights Museum
Memphis
The centerpiece of Memphis' first suburb, South Main, this emotionally arresting museum is located around the Lorraine Motel, where Martin Luther King Jr. was fatally shot in 1968. Three-dimensional interactive exhibits place visitors in the back of segregated city buses and in front of lunch counters, bringing to life the struggle for racial justice in America.
Donald Harrison, Sr. Museum
New Orleans, Louisiana
Learn about the flamboyant Mardi Gras Indian tradition at this small museum dedicated to folklorist Big Chief Donald Harrison, Sr. Located in New Orleans' Tremé neighborhood, the center showcases a collection of Harrison's intricate beadwork and several Harrison family suits. The orange modernist building, constructed by Tulane University's School of Architecture, is almost as attention-getting as the indigenous artwork displayed inside.
READER PICK
"The International Civil Rights Center & Museum in Greensboro, North Carolina, is an incredibly informative and well-done museum in an original Woolworths. Surprisingly cute town as well!"
—Angelique Richardson
Lightner Museum
St. Augustine, Florida
This museum, housed in Henry Flagler's 1889 Alcazar Hotel, is a treasure trove of Gilded Age relics—from big-game trophies and shrunken heads to fine furniture, cigar labels, and one of the nation's finest collections of cut glass. Plan on lunch at the museum's Cafe Alcazar, located in the deep end of what was once the world's largest indoor pool.
Mobile Carnival Museum
Mobile, Alabama
Let the good times roll at this museum spotlighting the nation's oldest Carnival, first celebrated by settlers and sailors at the original Fort of Mobile on Ash Wednesday 1703. Check out exhibits on Mardi Gras firsts—from parades to krewes to courts—as well as a massive display of jaw-dropping regalia, which includes the world's largest collection of trains.
Charles Hosmer Morse Museum of American Art
Winter Park, Florida
Charles Hosmer Morse, one of Winter Park's wealthiest founders, passed on a love of art to his heirs, who later amassed the world's largest collection of works by famed stained-glass artist Louis Comfort Tiffany. Don't miss the Tiffany Chapel exhibit, a stunning mosaic-and-glass chapel interior he created for the 1893 World's Columbian Exposition.
Rosenbaum House
Florence, Alabama
Renowned architect Frank Lloyd Wright designed around 1,000 structures, and this Alabama jewel—his only work in the state—is considered one of his masterpieces. Built in 1939 for less the $15,000, the house may be the finest expression of Wright's Usonian design concept, which features native materials, flat roofs, and a bringing together of indoor and outdoor spaces.
Experiences
Make your own fly rod at Oyster Fine Bamboo Fly Rods
Blue Ridge, Georgia
While most of the world's top makers of fly-fishing rods zealously guard their secrets, not so William "Bill" Oyster, whose rods have graced the grips of anglers like former president Jimmy Carter. Oyster welcomes amateur artisans to his Blue Ridge studio for weeklong classes. Stay in his Cast & Blast Inn, situated above the studio, and leave with a rod crafted with your own hands.
Search for shells in Sanibel
Sanibel Island, Florida
Find rare junonia and lion's paw shells at the island Juan Ponce de León called the "coast of seashells." Home to more than 400 shell varieties, its sandy shores (especially its gulf-facing beaches) offer the perfect place to scoop up a one-of-a-kind souvenir.
Hunt for quail at Wynfield Plantation
Albany, Georgia
Make like Kevin Costner and John Schuerholz and experience the sporting life in the quail-hunting capital of the world. Edge through the stillness of wiregrass and longleaf pines until the region's famous bobwhite quail explode out of the brush, sending your dog team into action. Come nightfall, retire to your fully stocked private cabin and swap stories over whiskey.
Tap your toes at Sutton Ole Time Music Hour
Granville, Tennessee
Feast on fried chicken while treating your ears to legendary live bluegrass during this Saturday-evening tradition at the historic T.B. Sutton General Store. Check out vintage signs, browse old-fashioned toys, and clap your hands to some of the best banjoists in the biz.
CELEBRITY PICK
"My husband Carl and I have a camper, and we love traveling all over Tennessee. We like visiting the small towns like Jonesboro, and I love going to Chattanooga. We love Ringgold, Georgia, too. That's where we got married."
—Dolly Parton, entertainer
Swim with the manatees and dive for scallops on Crystal River
Crystal River, Florida
November through March, swim among endangered West Indian manatees—gentle sea cows who love the river's warm, spring-fed waters. July through September, hunt for scallops in the swaying grasses and let a professional chef cook them up for dinner. The Plantation on Crystal River is the jumping-off point for both unforgettable experiences.
Take a Petersburg boat tour along the Augusta Canal
Augusta, Georgia
Step inside an open-air Petersburg boat and float along the city's beautiful labyrinth of waterways. Offered by the Augusta Canal National Heritage Area, many tours pass historic sites such as the Confederate Powder Works and its original 150-foot brick chimney. On weekends, enjoy sunset excursions and music cruises.
Scale a boulder at Little Rock City
Chattanooga, Tennessee
Climb giant rocks without a rope at this legendary boulder field. The sport is a bit like putting together a puzzle: If you grab that groove up there with your right hand, where will your left hand go? Climbers call these bouldering routes "problems." With the right skills—and more than a little courage—nearly every problem can be solved.
Get in on the game with the St. Petersburg Shuffleboard Club
St. Petersburg, Florida
Friday nights are open courts (and BYOB!) at the normally members-only St. Pete Shuffleboard Club. Located alongside downtown's Mirror Lake, it's the largest and oldest shuffleboard club in the world. Never played? Ask the volunteers, some of whom play on the competitive circuit, for pointers.
Train like an astronaut at Kennedy Space Center
Cape Canaveral, Florida
Don virtual reality goggles and retrieve rocks from Mars. Hop inside a rover, survive a couple of crashes and flips, and float around in a microgravity simulation. The center's Astronaut Training Experience might not actually qualify you to go to Mars, but it does offer its own out-of-this-world thrills.
Make a roux at the New Orleans School of Cooking
New Orleans
It's great fun showing up at the school's nineteenth-century French Quarter warehouse, standing in front of a professional-grade stove, and making a roux. It's also intimidating. Roux is the building block for most Creole recipes, the thing that separates the true Louisiana cooks from the pretenders. Thankfully, the school's chefs know how to keep you stirring and whisking like a local.
Fly in a World War II airplane with the Commemorative Air Force Chapter's Dixie Wing
Peachtree City, Georgia
Soar into the clouds in a 1943 North American LT-6, the kind of aircraft the Allies trained with during World War II. Your fifteen-minute joyride in the bird nicknamed "Old Growler" and piloted by a Dixie Wing member offers the chance to pay airborne tribute to the Greatest Generation.
Attend Mermaid Camp in Weeki Wachee Springs
Weeki Wachee, Florida
Mermaids are more than myths at this vintage tourist attraction, where they have performed daily synchronized swimming shows since the 1940s. If you feel the call to don a Lycra tail and take the plunge, the park also offers weekend mermaid camps with instruction in water-ballet moves, behind-the-scenes tours, and plenty of photo ops.
Hang glide in the Outer Banks
Nags Head, North Carolina
Launch into the air from a 100-foot-high dune at Jockey's Ridge, just south of the spot where Orville and Wilbur Wright successfully flew the first airplane near Kitty Hawk in 1903. Kitty Hawk Kites, which operates the world's largest hang-gliding school, offers lessons for all levels. 
Explore the South's National Parks
Multiple locations
From the underwater wilderness of south Florida's Biscayne to the soaring hardwoods of South Carolina's Congaree; from the windswept isles of Dry Tortugas in the Florida Keys to the leafy vistas of Great Smoky Mountains straddling the border between Tennessee and North Carolina, the national parks of the South are as varied as the region itself. Don't miss the Everglades, Florida's vast subtropical ecosystem of flora and fauna that is simply in a league of its own. 
Wander the Creole Nature Trail
Sulphur, Louisiana
Begin your exploration of this 180-mile trail at its Adventure Point headquarters, where you'll learn how to identify the calls of local birds, smell spices used in traditional Cajun dishes, and try your hand at playing instruments from zydeco bands. Knowledgeable staffers offer maps and tips for spotting animals, from giant alligators to the pink dolphins that often swim alongside the Cameron Ferry.
See the waterfalls at Jocassee Gorges
Sunset, South Carolina
Comprising more than 43,500 acres, these gorges are a natural wonder marked by rugged forests, mountain streams, and one of the largest concentrations of waterfalls in the eastern United States. Jocassee Lake Tours offers pontoon trips that take you right up to many of the cascading wonders, including eighty-foot Laurel Fork Falls.
Go birding on Dauphin Island
Dauphin Island, Alabama
Considered one of the top birding locations in North America, this is the first landfall for myriad neotropical species after their long, arduous migration from Central and South America each spring. It's also their last rest stop before they fly home in the fall. Spot hundreds of varieties, including rare piping plovers, reddish egrets, and warblers.
CELEBRITY PICK
"I love how there's no infrastructure on Georgia's Cumberland Island. I love the empty beach. I love that we can go clamming. I've gone oystering there when it's freezing cold. I've also been there at the same time as Jimmy Carter, which was lovely."
—Lucy Buffett, restaurateur and author
Marvel at the BAPS Shri Swaminarayan Mandir
Lilburn, Georgia
Suburban Atlanta is home to one of the continent's largest Hindu mandirs. No matter your religious persuasion, you'll be wowed by the palatial temple's intricately carved exterior, gleaming Carrara marble, vibrant shrines, and reflection pond with elephant-shaped fountains. Don't skip the $5 audio tour.
Events
Key West Literary Seminar
Key West, Florida | January
Ernest Hemingway, Tennessee Williams, and Robert Frost all lived and wrote in Key West. Now acclaimed and bestselling authors gather here each year for conversation around a particular literary theme. The 2021 lineup, which explores the topic of desire, includes Jericho Brown, John Irving, Susan Choi, and Key West resident Judy Blume.
Sapphire Valley Outhouse Races
Sapphire, North Carolina | February
Who wouldn't want to watch decorated outhouses race on skis to raise money for charity? Cheer on the potties (and their pilots) as they speed down a snowy hill in a competition for best theme, most humorous, top construction, and fastest. Past entries have included a fire-hydrant design dubbed the "Canine Urination Station" and "Snowy & the Fab 7," with driver Snow White pulling seven mini dwarf toilets.
Savannah Music Festival
Savannah, Georgia | March–April
The city's moss-draped parks and historic buildings play host to this world-class music festival each spring. Lauded for its wide range of musical genres and high-caliber performers (such as singer-songwriter Rosanne Cash, jazz singer Dianne Reeves, cellist David Finckel, and pianist Wu Han), this event is a must for music enthusiasts.
Natchez Spring Pilgrimage
Natchez, Mississippi | March–April
In 1931, a spring freeze spoiled the Natchez Garden Club's annual garden tour, so they planned a showcase of local residences instead. And thus, this grande dame of home tours was born. Natchez was once one of the country's wealthiest towns, and its unspoiled antebellum mansions surrounded by blooming azaleas exude undeniable grandeur.
Digital Graffiti
Alys Beach, Florida | May
This sophisticated coastal town's Grecian white walls serve as the canvas for digital graffiti artists during this cutting-edge projection-art festival (this year moved to October). Mind-bending exhibits transform the entire town's facades into a dynamic work of art. It's "photon-bombing" at its best.
Underwater Music Festival
Looe Key Reef, Florida | July
For thirty-five years, divers, snorkelers, and musicians have gone "under the sea" at this melodious marine festival. Submerged speakers broadcast ocean-inspired tunes as players perform with instruments such as the "trom-bonefish," "manta-lin," and "bass-oon." With a dose of eccentricity, the event brings awareness to coral reef conservation.
Dirty Dancing Festival
Lake Lure, North Carolina | September
A filming location for the cult movie, Lake Lure comes alive each year with Dirty Dancing soundtrack tunes and fans sashaying like Baby and Johnny. At the lake-lift competition, re-create the film's splashiest move in the same waters where Patrick Swayze held Jennifer Grey high in the air.
National Storytelling Festival
Jonesborough, Tennessee | October
Experienced "tellers" and thousands of listeners gather in this picturesque town to share stories through a mashup of monologues, performance art, and poetry readings. Share your own story at the Swappin' Ground, where anyone can stroll up and tell a tale.
National Pumpkin Destruction Day
The Rock, Georgia | November
At Georgia's popular agricultural destination, The Rock Ranch, "smash it, don't trash it" is the motto of the day. Families bring their own pumpkins to bash, drop, pulverize, even explode. There's pumpkin bowling, pumpkin archery, even cannons from which to launch a jack-o'-lantern. Don't miss the pumpkin-pie-eating contest.
Natchitoches Christmas Festival
Natchitoches, Louisiana | November–January
Steel Magnolias fans will love this annual celebration that inspired the movie's Christmas carnival. See millions of twinkling lights, brightly lit displays along Cane River Lake, and weekend fireworks shows. Book a stay at the Steel Magnolia House Bed and Breakfast, where Shelby Eatenton's family lived in the beloved film.
With contributions by: Kevin Benefield, Larry Bleiberg, Sam Boykin, Wendell Brock, Beth Castle, Lynn Coulter, Beth D'Addono, Allison Entrekin, Margaret Evans, Elizabeth Florio, Dana Ford, Jennifer Franklin, Jason Frye, Jennifer Green, Emma Hunt, Brooke Porter Katz, Bret Love, Hanna Lustig, Jennifer Rainey Marquez, Merrell McGinness, Amy Meadows, Calli Monnier, Tony Rehagen, Anne Roderique-Jones, Whitney Tomasino, Suzanne Wright
This article appears in the Fall/Winter 2020 issue of Southbound.