United will resume 40 international routes in November, including many to leisure and beach destinations in Hawaii, Mexico, and the Caribbean.
The Chicago-based carrier says on 2 October it is attempting to benefit from an increase in leisure demand, as business travel remains particularly depressed amid the coronavirus pandemic.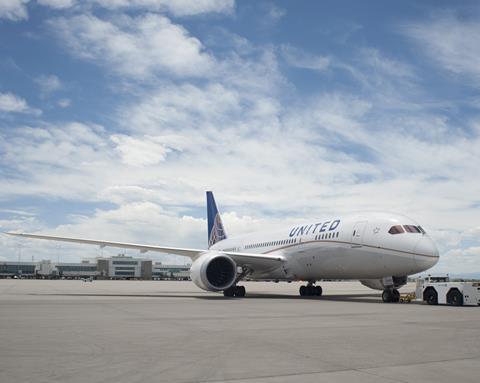 "For the month of November, we have adjusted our capacity to add flying for leisure travel to warm weather and beach destinations in Florida, Mexico and the Caribbean, along with 'visiting friends and relatives' travel across the globe," says Patrick Quayle, United vice-president of international network and alliances.
The new routes come as the weather in the northern hemisphere tips toward winter. The airline is banking on pent-up demand amongst potential holiday-makers who want a break in a warmer climate.
The airline announced in August it will offer more daily nonstop flights connecting customers in the northern cities of Boston, Cleveland and New York to popular Florida destinations including Fort Lauderdale, Fort Myers, Orlando and Tampa.
With these routes, the carrier is directly taking on low-cost carriers like New York-based JetBlue Airways and Miramar, Florida-headquartered Spirit Airlines, which are traditionally strong in bringing winter-weary northern vacationers to southern sun destinations during colder months. 
United also says it will resume 29 international routes between the United States and Asia, Europe and Latin America – flying 38% of its November 2019 international schedule. That's up from 32% in October.
The airline will reintroduce flights to Frankfurt from Denver and increase frequency to Frankfurt from Houston in Europe, and will convert cargo-only connections to passenger service between San Francisco and both Taipei and Seoul in Asia.
United will also resume flights from Houston to both Santiago and Rio de Janeiro, as well as non-stop flights to numerous Caribbean and Central America destinations, including Antigua, Curacao, Grand Cayman, Managua, Nassau, St Lucia and Roatan.
Overall, including domestic routes, the carrier will be flying 44% of its normal schedule, up four percentage points from October. 
The global pandemic has decimated passenger demand across the board, with many aviation industry trade organisations estimating it could take up to four years for the industry to return to pre-Covid levels.
On 1 October, United furloughed more than 13,000 workers as federal payroll protection expired without an extension.